Medical and Dental Technology
Stair Lift
The stair lift drive developed by Framo Morat actually consists of a total of three drives: the main drive for the lift's upward and downward movements, one for swiveling the seat (making it easy to get on and off), and a drive for tilt correction so that the seating position is always horizontal despite differing gradients within a stair section. Link to manufacturer.
Two-Component Mixer
This drive is used in dental practices. At the touch of a button it automatically doses and mixes two viscous, paste-like substances in the correct proportion and in the desired quantity. The challenge posed by this application consisted in designing the drive for an upgraded model – a quieter and smaller drive but twice as powerful.
Worm Gear Units for Motorized Motion Rails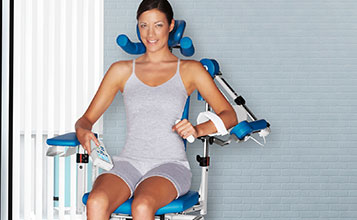 Two worm gear units have been built into a shoulder motion rail: one raises and lowers the patient's arm; the other carries out a rotational movement of the shoulder. This generates a movement corresponding to the natural pattern for the shoulder. Maximum accuracy is required for post-operative movement of the shoulder, which is moved over the top dead center. Too great a gear backlash can be painful for the patient so our gears are produced with a total play of less than 1.5°.
The "Stair Climber"
A three-stage spur gear was developed for a stair-climbing aid. The Stair Climber can easily be attached to a conventional wheelchair so that persons weighing up to 160 kg can be transported up and down stairs.Particular attention was given to the quality of the gear components because of the extremely high demands made of the drive regarding performance and quiet running. Framo Morat won the contract to supply the drives because of the high quality we were able to guarantee.
Adjustment Systems for Operating Tables
Medical applications pose the very highest of demands regarding precision, quiet running and long service life. This is also the case for the worm gear sets made of stainless steel, with which all moving parts of an operating table can be adjusted.
Link to manufacturer.
Medical Infusion Technology
In portable automatic infusion systems, various drive elements ensure failsafe and accurate dosage. In addition, we manufacture various housing sections for which the sterile requirements place high demands on the surface quality and dimensional accuracy of the outer shape.
Components for Medical Devices
In various devices and pieces of equipment, individual parts, and drive elements render their vital service to the patient – whether during a preventive exam or in the operating room or rehabilitation clinic.
Laboratory Metering Pump
This drive unit is used in places such as laboratories. The gearing provides precise movement and the digital control with integrated throughput measurement enables simple and precise metering of a wide variety of media.