Drinking Water Treatment
Pump systems for purifying drinking water and waste water treatment is a major application for our worm gear sets. The use of high-quality materials ensures reliability and a long service life for our gear sets under uniform loads in continuous operation.
Chemical Industry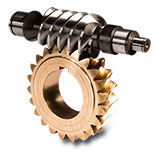 Worm gear sets from Framo Morat are used in metering pumps for the chemical and petrochemical industries. High-quality components ensure reliable operation over very long periods of time, even under hostile environmental conditions.
Pump Drives
In the pump technology area, our products are responsible for circulating various solutions. With the right combination of material and technical implementation, our gears, connection rods, and housings fulfill the stringent requirements for resilience and temperature resistance.